Kindle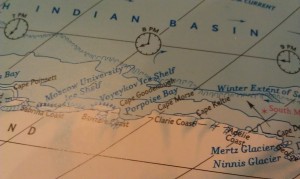 Or as I like to call it, Cape Fuckthiswearegoinghome.
Sadly, Antarctica's Cape Goodenough (pictured here on National Geographic's Political Map of the World) was not named by a less-then-intrepid band of explorers who decided that seeing the coastline of Antarctica was plenty of adventure for them, thankyouverymuch.
Instead, it's named for William Goodenough, admiral in the British Royal Navy. Yes. Admiral Goodenough. I'm sure the troops were enthused.
But wait, there's more. In the 1930s and 1940s, the admiral was apparently involved in the creation of comfortable, dormitory-style housing for international post-graduate students in London. Today, the buildings are known as ... Goodenough College.
Maggie Koerth-Baker is the science editor at BoingBoing.net. She writes a monthly column for The New York Times Magazine and is the author of Before the Lights Go Out
, a book about electricity, infrastructure, and the future of energy. You can find Maggie on Twitter and Facebook.
Maggie goes places and talks to people. Find out where she'll be speaking next.
More at Boing Boing