Kindle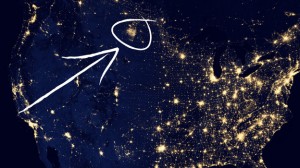 NPR's Robert Krulwich circled this bright spot on a night-time satellite image of the United States. As Krulwich points out, this cluster of lights is new — it wasn't there in 2005. And it's not a city.
Instead, that bright spot is a shining reminder of the natural gas boom. What you're seeing are the lights from drilling rigs and flares burning gas.
Maggie Koerth-Baker is the science editor at BoingBoing.net. She writes a monthly column for The New York Times Magazine and is the author of Before the Lights Go Out
, a book about electricity, infrastructure, and the future of energy. You can find Maggie on Twitter and Facebook.
Maggie goes places and talks to people. Find out where she'll be speaking next.
More at Boing Boing