Kindle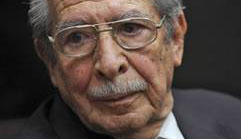 "I'm distressed. I don't know what's happening. That's how this country is. The powerful people do what they want and we poor and indigenous are devalued. We don't get justice. Justice means nothing for us."—
Ana Caba, an Ixil Maya survivor
of Guatemala's 36-year internal armed conflict.
She became an internally displaced refugee, living in the mountains for nearly ten years as Army troops raped, murdered, and destroyed villages throughout the Ixil region in the early 1980s. Like many around the world, she was stunned by the Guatemalan Constitutional Court's decision to annul the trial and throw out the verdict and sentence for former US-backed dictator Rios Montt.
Reuters correspondent Mike McDonald reports from Guatemala City today.
Ms. Caba, 51, is one of the women behind this wonderful book project, "Voices and images: Mayan Ixil women of Chajul."
Boing Boing editor/partner and tech culture journalist Xeni Jardin hosts and produces Boing Boing's in-flight TV channel on Virgin America airlines (#10 on the dial), and writes about living with breast cancer. Diagnosed in 2011. @xeni on Twitter. email: xeni@boingboing.net.
More at Boing Boing