Kindle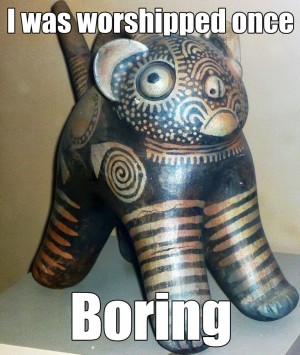 Yesterday, guest blogger Madeleine Johnson had a story here about a piece of ancient Peruvian pottery — in the shape of a very grumpy little cat. If you haven't read her story, you really should. It's all about the great cat memes of ancient history and how archaeologists can use clues from an artwork to track down who made it, where, and when.
My friend Andrew was kind enough to adapt Ancient Grumpy Cat into the form of a modern cat meme. That's his picture above. Madeleine and I also put together another one, based on Ancient Grumpy Cat's probable history as a ceremonial mug for drinking a corn beer called chicha: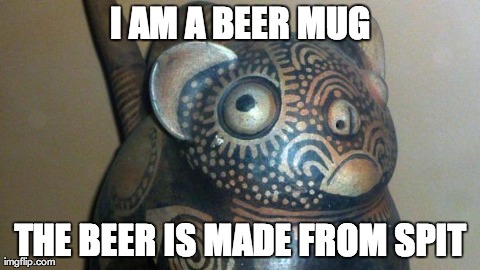 Chicha refers to a wide range of different beverages, but some of them were (and are) made using human saliva as a way to kick off the fermentation process. The good news: If you want to try to make your own chicha, the spit is optional.
Maggie Koerth-Baker is the science editor at BoingBoing.net. She writes a monthly column for The New York Times Magazine and is the author of Before the Lights Go Out
, a book about electricity, infrastructure, and the future of energy. You can find Maggie on Twitter and Facebook.
Maggie goes places and talks to people. Find out where she'll be speaking next.
More at Boing Boing