Kindle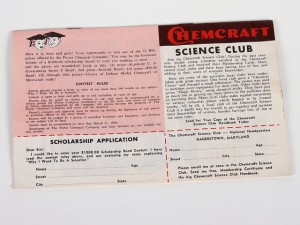 Evil Mad Scientist has a great collection of photos taken of the booklets that came with the sort of old-fashioned, you'll-put-your-eye-out chemistry sets regularly sold to children in midcentury America.
It's a treasure trove, not only for those of us interested in science, but also for anyone with a special place in their heart for the era's graphic design.
Maggie Koerth-Baker is the science editor at BoingBoing.net. She writes a monthly column for The New York Times Magazine and is the author of Before the Lights Go Out
, a book about electricity, infrastructure, and the future of energy. You can find Maggie on Twitter and Facebook.
Maggie goes places and talks to people. Find out where she'll be speaking next.
More at Boing Boing