Kindle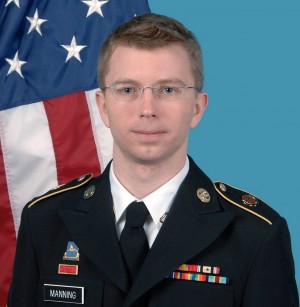 Pfc. Bradley #Manning sentenced to 35 yrs (w 1294 days credit) . Reduced E-1. Forfeit of all pay & allowances. Dishonorably discharged.

— Alexa O'Brien (@carwinb) August 21, 2013
In a courtroom at Fort Meade today, Judge Army. Col. Denise Lind delivered the sentence in the trial of Bradley Manning: 35 years in a military prison, less 1,294 days for time served, and a 112-day credit for enduring "unlawful pretrial punishment," when he was held for 9 months at a Marine Corps brig in Quantico, VA. During that stay, Manning was confined alone for more than 23 hours each day in an 8-by-6 foot cell.
The 25-year-old former intelligence analyst was convicted of charges related to sharing more than 700,000 secret government documents with Julian Assange and Wikileaks. The transparency group published those documents online, and shared them with various news organizations.
Manning faced a maximum of up to 90 years in prison. Human rights advocates say prolonged extreme solitary confinement Manning received is a form of torture. No minimum sentence applied in this case. Judge Lind convicted him last month of most charges brought against him by the government, including 6 violations of the US Espionage Act of 1917.
From Ft. Meade, Firedoglake's Kevin Gosztola writes, "Guards quickly escorted Manning out of the courtroom as supporters in the gallery shouted, 'We'll keep fighting for you, Bradley,' and also told him he was a hero."
Adam Klasfeld at Courthouse News writes, "Though Col. Denise Lind warned spectators not to disturb the hearing, which wrapped up in under five minutes, a gasp was heard after the military judge read the sentence. Two sergeants-at-arms appeared angered - grabbing Manning roughly and pulling him from the courtroom - as dozens of supporters began shouting words of encouragement to their whistle-blower."
"Like his sister and aunt seated in the audience, Manning remained composed during the reading of his sentence," writes Klasfeld. "The wife of lead defense attorney David Coombs meanwhile cried in her seat."
Alexa O'Brien, who has been covering the trial at Fort Meade nearly every day for the past 20 months, has created this detailed chart explaining how various charges were merged, leading to the sentence Manning received today.
Pfc. Manning's sentence is 5 years longer than a man who passed "sophisticated defense secrets to communist East Germany," notes Kevin Gosztola at Firedoglake.
As Quinn Norton writes at Medium, "Private Bradley Manning didn't kill anyone, or rape anyone, but by nabbing information from his commanders and giving it to WikiLeaks, he lit up the world, like a match discarded into a great parched forest."
Defense attorney David Coombs has previously said that he plans to pursue all available options for appeal, which may include the Supreme Court. It is very rare that the nation's highest court will agree to review cases of military law, but this may be a likely exception. Other options include a presidential pardon.
Manning is unlikely to serve his entire sentence in prison. He will immediately be able to petition for clemency from the court martial Convening Authority Major General Jeffrey Buchanan. A clemency and parole board in the Army can look at his case after a year. After that initial review, he can then ask the board to assess his sentence on a yearly basis for clemency purposes. Manning has to serve a third of his sentence before he can be eligible for parole. Appeals application to the Army Criminal Court of Appeals will automatically be entered after the sentence is issued. If Manning or his lawyers do find issues to press, they can take the case to the Court of Appeals of the Armed Forces and then possibly the US Supreme Court. There is "good behavior" credit, which can be as much as ten days for each month of his confinement.
Here are transcripts of trial proceedings [PDF], captured by stenographers who were crowdfunded and hired by Freedom of the Press Foundation.
Manning's attorney David Coombs will give a press conference at 130pm ET. Follow this Twitter list, for updates from reporters who are there at the Fort Meade media operations center. Tweets from them gathered, below.
---
Inside media center: Crowd-funded stenographer getting set for sentencing announcement. Press still being inspected & processed. #Manning

— Kevin Gosztola (@kgosztola) August 21, 2013
When considering proportionality, #Manning will be punished to far greater extent than any soldiers or officers involved in torture

— Kevin Gosztola (@kgosztola) August 21, 2013
When #Manning sentence is handed down, compare to sentences for spies for Iraq and East Germany http://t.co/gkL1SbYBW3

— Matt Sledge (@mgsledge) August 21, 2013
Bradley #Manning to be sentenced at 10 AM. David Coombs to give press conference at 1:30 PM. Protest at White House at 7:30 PM. #FreeBrad

— Nathan Fuller (@nathanLfuller) August 21, 2013
Accord to @SaveBradley Coombs to make application after sentencing to President Obama to pardon, for clemency, and time served. #Manning

— Alexa O'Brien (@carwinb) August 21, 2013
Here is a IMAGE of how #Manning 's conviction was merged for sentencing purposes. He faces MAX 90 years. No MIN. pic.twitter.com/27fI4T75Hs

— Alexa O'Brien (@carwinb) August 21, 2013
Journalists are asking for a camera to be FIXED on #Manning so they can see his reaction from the media operations center. #Manning

— Alexa O'Brien (@carwinb) August 21, 2013
The Internet will be cut off as soon as the court is called to order. #Manning

— Alexa O'Brien (@carwinb) August 21, 2013
PAO director informs media not to sneak in cell phones or won't be able to get credentials in military district of Washington #Manning

— Kevin Gosztola (@kgosztola) August 21, 2013
Journalists will not be able to file (get up, use phone) regarding the sentencing until after she recesses Court. #Manning

— Alexa O'Brien (@carwinb) August 21, 2013
What #WikiLeaks revealed: http://t.co/5G6GWzBwHo (torture, corruption, govt-corporate collusion, abuse) #Manning

— Nathan Fuller (@nathanLfuller) August 21, 2013
Bradley #Manning's defense implored Judge Lind for a sentence that "allows him to have a life" http://t.co/1QWlrQVJAB

— Nathan Fuller (@nathanLfuller) August 21, 2013
Amnesty Intl: "President Obama should commute US Army Private Bradley #Manning's sentence to time already served"

— Matt Sledge (@mgsledge) August 21, 2013
Boing Boing editor/partner and tech culture journalist Xeni Jardin hosts and produces Boing Boing's in-flight TV channel on Virgin America airlines (#10 on the dial), and writes about living with breast cancer. Diagnosed in 2011. @xeni on Twitter. email: xeni@boingboing.net.
More at Boing Boing