Kindle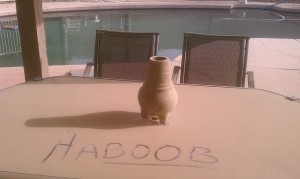 Fun to say. Less than fun to experience. Haboobs are dust storms known for their distinctive wall-like appearance. Think the ice wall from Game of Thrones, but made of dirt, and heading right for you at speeds as high as 60 miles per hour.
The word is Arabic, but haboobs can happen all over the world. In fact, one of them hit eastern Washington state last weekend.
Image: Hey, Haboob... You suck., a Creative Commons Attribution No-Derivative-Works (2.0) image from nickbastian's photostream
Maggie Koerth-Baker is the science editor at BoingBoing.net. She writes a monthly column for The New York Times Magazine and is the author of Before the Lights Go Out
, a book about electricity, infrastructure, and the future of energy. You can find Maggie on Twitter and Facebook.
Maggie goes places and talks to people. Find out where she'll be speaking next.
More at Boing Boing