Kindle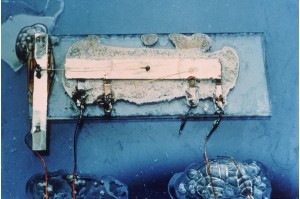 NOVA's Tim De Chant posted this awesome photo of the Kilby Solid Circuit, the first working example of a miniaturized electric circuit that combined all the necessary structures onto a single chip. Back in 2000, when he won the Nobel Prize for this achievement, inventor Jack Kilby gave a really nice talk about the history of electronics and the context that lead to his creation. It's definitely worth a read.
Maggie Koerth-Baker is the science editor at BoingBoing.net. She writes a monthly column for The New York Times Magazine and is the author of Before the Lights Go Out
, a book about electricity, infrastructure, and the future of energy. You can find Maggie on Twitter and Facebook.
Maggie goes places and talks to people. Find out where she'll be speaking next.
More at Boing Boing