Kindle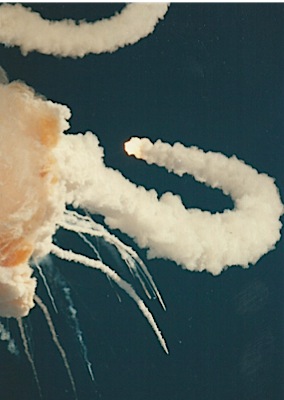 Redditor Michael Hindes found this photo, along with 25 others, in a box of his Grandmother's things. They were taken on January 28, 1986, at the launch of the space shuttle Challenger. Some of the pictures look pretty similar to other shots you'll have seen before, but I wanted to post this one because it really felt different. It captures the plume of smoke from the spacecraft as it broke apart, and trails left by the crazed path of the suddenly orphaned solid rocket boosters. For me, this shot manages to be more of an emotional gut punch than other pictures I've seen of the explosion. There's just something about this that makes me feel the loss and confusion of the disaster in a really visceral way. Amazing stuff.
You can see the full series of photos at IMGUR. Another Redditor also took the photos and turned them into a GIF of the launch.
Maggie Koerth-Baker is the science editor at BoingBoing.net. She writes a monthly column for The New York Times Magazine and is the author of Before the Lights Go Out
, a book about electricity, infrastructure, and the future of energy. You can find Maggie on Twitter and Facebook.
Maggie goes places and talks to people. Find out where she'll be speaking next.
More at Boing Boing