Kindle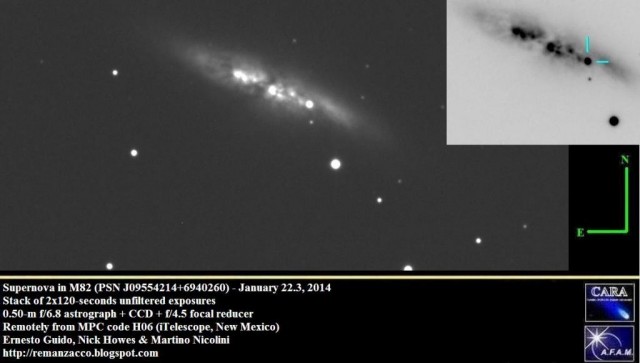 The bright ball at the right hand end of the Cigar Galaxy is, probably, what it looks like when an old, cold, dense husk of a star (aka a "white dwarf") explodes 12 million light years away. It may not look as impressive as you'd imagine, but astrophysicists were extremely excited when this likely supernova appeared in the sky last night. The big question now: Is it the result of one white dwarf going boom, or two white dwarfs crashing into each other?
Maggie Koerth-Baker is the science editor at BoingBoing.net. She writes a monthly column for The New York Times Magazine and is the author of Before the Lights Go Out
, a book about electricity, infrastructure, and the future of energy. You can find Maggie on Twitter and Facebook.
Maggie goes places and talks to people. Find out where she'll be speaking next.
More at Boing Boing