Kindle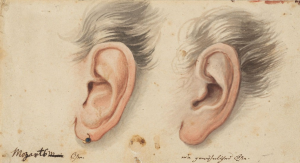 I find this comparison of Mozart's ear with that of an "ordinary ear" to be interesting for a couple of reasons. First, it's apparently the work of Mozart, himself. You can see "mein" crossed out and Mozart's name written in by somebody else. Second, I would love to know who got to represent all the other ears in humanity for the purposes of this comparison. That made me smile a little. Finally, is that an earring, Amadeus?
Via Harvard's Houghton Library Autograph File
Read more in Music at Boing Boing
Maggie Koerth-Baker is the science editor at BoingBoing.net. She writes a monthly column for The New York Times Magazine and is the author of Before the Lights Go Out
, a book about electricity, infrastructure, and the future of energy. You can find Maggie on Twitter and Facebook.
Maggie goes places and talks to people. Find out where she'll be speaking next.
More at Boing Boing