Kindle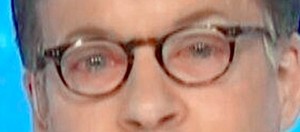 By now, you are probably aware that NBC Olympics anchor Bob Costas has pink eye, and it's getting worse. What I didn't realize: Pink eye is a symptom, not a diagnosis. It's an infection of the lubricating cells that line your eye, but lots of things can cause that infection, including staph and strep bacteria, chlamydia, and rhinovirus. Those are common causes of pink eye, but there are some more exotic ones out there, as well. It was the most common symptom of the emergent flu strain H7N7 when that virus infected 89 people in the Netherlands in 2003. There are even three viruses that can cause acute hemorrhagic conjunctivitis, a sort of uber-pink eye that is, thankfully, not nearly as dangerous as it sounds.
Maggie Koerth-Baker is the science editor at BoingBoing.net. She writes a monthly column for The New York Times Magazine and is the author of Before the Lights Go Out
, a book about electricity, infrastructure, and the future of energy. You can find Maggie on Twitter and Facebook.
Maggie goes places and talks to people. Find out where she'll be speaking next.
More at Boing Boing