Read more at Boing Boing
Read more at Boing Boing
Read more at Boing Boing
---
Matt sez, "The Danny Devito-like schlub in this ad feigning excitement for 'Stah Woiz' and its 'layzah swoids' in order to pawn off some collectible cups has had me laughing all evening."
Star Wars Cups (1977) - Majik Market Commercial (Thanks, Matt!)
---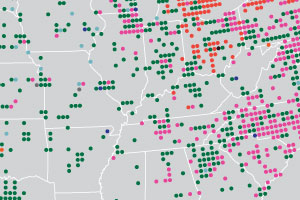 The battleground is most intense in the midwest; on the coasts and in Canada, contiguous coffee empires form. Flowing Data:
"The spatial concentration in cities didn't surprise me so much, but the cumulative coverage of the coffee places did. I expected to see something more like the pizza map, however, there are lots of areas in the country where it is more than ten miles to the nearest chain."
---
Enjoy this trailer for Spook Train, an extremely gory, foul-mouthed claymation film being produced in the United Kingdom: "This is a train that Margeret fookin' Thatcher herself shut down. Deemed too obscene for the general public!" There's a Kickstarter, naturally.