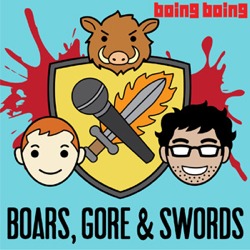 Boars, Gore, and Swords is hosted by stand-up comedians Ivan Hernandez and Red Scott. In each episode they break down HBO's Game of Thrones and George R.R. Martin's A Song of Ice and Fire. They also talk about movies, TV, science fiction, fantasy, and lots of other things. NSFW.
[Spoilers ahoy!] "First of His Name," Season 4 Episode 5 of HBO's Game of Thrones, is a real return to form as the show continues its strongest season. With our third King since the series started, we get our first coronation in King's Landing with Tommen Lannist… Baratheon, Cersei arranges a second son's marriage to the same woman, Daenerys realizes in all the conquering she's forgotten to rule, HUGE realizations as Littlefinger and Sansa arrive at the Eeyrie, the ponzi scheme of Casterly rock, comical horse riding, Jojen has a vision, a boy and his wolf reunite, and Craester's wives take a stand.
Read Boing Boing's other GoT S04E05 recap here.
GET BGaS: RSS | On iTunes | Download episode
Published 12:10 am Wed, May 7, 2014
More at Boing Boing
Dani Tinker, with the National Wildlife Federation, on the wonderful weird things growing in that felled log out back.
This episode of Apps for Kids is brought to you by Shoparoo - start earning for your school today.