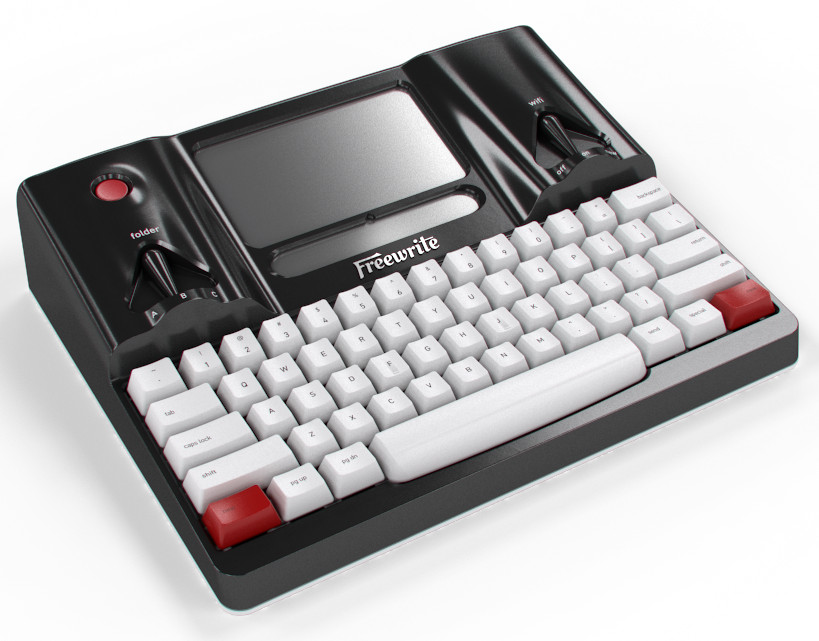 The Freewrite started life as a successful Kickstarter campaign and now it's an object of commerce: a $500 keyboard with a sharp frontlit e-ink screen that gets more than a month's use from a full battery.
The $500 price is high, and driven by the device's high-spec manufacturing: the full-sized mechanical keyboard's kitted out with Cherry MX switches, and the body of the device is machined aluminum. It weighs four pounds and you carry it by pulling out a recessed handle. You either store your docs to the device's internal storage, or synch them to cloud services (you need to flip the mechanical wifi switch to ON when you want to do this).
I write everything (including this post) in an unadorned text-editor, because it has nothing to distract me. Gadgets like the Freewrite have been in the pipeline for years, Charlie Stross used to swear by a keyboard with a built-in one-line display that ran for weeks on a couple of AA batteries. His keyboard had a USB port and you could use it as a USB keyboard; one of the ways to get data off of it was to plug it into a computer, open a new text window, and ask the keyboard to dump all its stored text as if they were keystrokes.
It's a good tool for people struggling with writing in the age of distraction.
"We are quickly seeing people becoming more disenchanted than ever with the nag of constant consumption," explains Adam Leeb, cofounder of Freewrite manufacturer Astrohaus. "Everyone, particularly the millennial generation, understands that we now have to fight for our own attention from the outside world. Instead of allowing it to be a general purpose computer, we focused on one purpose, making the best possible writing experience."
The Retro Freewrite May Just Be the Ultimate Word Processor [Tim Moynihan/Wired]