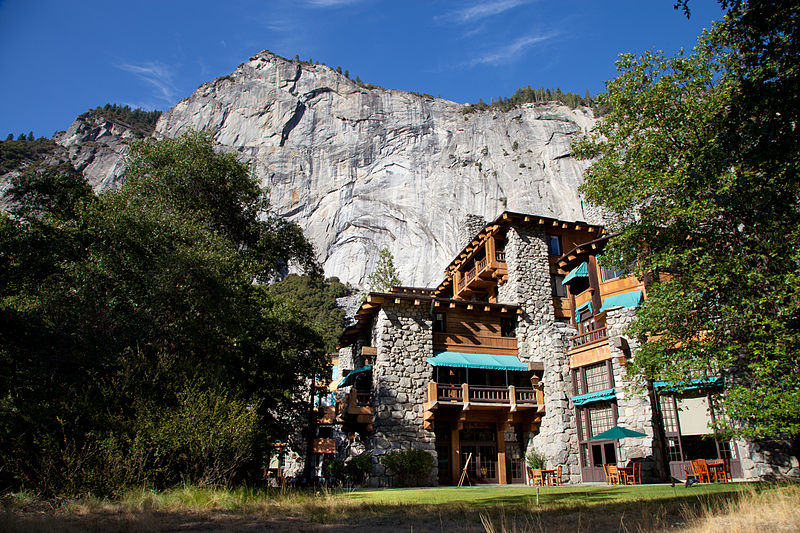 DNC Parks & Resorts at Yosemite, Inc (a division of one of the largest privately owned companies in the world) used to have the concessions to operate various businesses around Yosemite National Park. Now that they've been fired, they're using some decidedly dubious trademark to force the Park Service to change the names of buildings and locations that have stood for as much as a century, including some that have been designated national landmarks.
The Parks Service has caved to these requests as it readies the park for its centennial celebration. It will not only change the names of publicly owned landmarks -- such as the Ahwahnee hotel, Yosemite Lodge, the Wawona Hotel, Curry Village, and Badger Pass ski area -- it will also have to change all its signs, maps and guidebooks.
It gets worse: the outgoing concessionaire also holds a trademark for any merchandise, and claims that it alone can sell things like Yosemite shirts, mugs, etc.


DNC ran the park's concessions from 1993 on, and began trademarking the names and images of park landmarks in 2002, something it only informed the Parks Service of when it lost its bid to continue running the park's commercial operations.
DNC refuses to hand over those trademarks unless the incoming concessionaire buys it out, setting in motion a chain reaction that will presumably endure until the end of the USA itself, in which the sums that concessionaires bid to profit from public property are reduced by the expected dead-weight losses to license trademarks that should never have been granted in the first place. DNC has also registered trademarks for other US public property, including the Space Shuttle Atlantis.
It's evidence of the dysfunction of the US Patent and Trademark Office, which should be heartily embarrassed by this, and of the cult of fiduciary duty, which holds that companies should do anything they can to earn a profit for their shareholders, no matter how odious and unethical.
If this tactic succeeds, we should expect every single government contractor to repeat it. Why not let Halliburton trademark the names of the Forward Operating Bases it builds, or the company that sells coffee on the Liberty Island ferry to trademark the Statue of Liberty?
Update: Jason points out that the company that drove Tavern on the Green into bankruptcy tried this on NYC in 2009.
In its response earlier this month, the government implied another motive for DNC's actions: greed. "DNCY's parent company apparently has embarked upon a business model whereby it collects trademarks to the names of iconic property owned by the United States," wrote a Department of Justice attorney. The company also has received trademarks for the phrases "Space Shuttle Atlantis," he noted.

DNC is a subsidiary of Delaware North, one of the largest privately held companies in America. The worldwide hospitality company and its subsidiaries operate food service at many airports and sports stadiums. It also operates the concessions at the Kennedy Space Center Visitor Complex and London's Wembley Stadium. Its chairman, Jeremy Jacobs, is owner of the Boston Bruins. (The company also owns and operates TD Garden, where the Bruins play.)

A search on the trademark office's website shows more than 50 trademark applications in all—most apparently successful—for phrases, logos and names, including "Wuksachi Lodge" (in Sequoia National Park), a frequently-seen, stylized logo of Yosemite's Half Dome, and the phrase "United States Astronaut Hall of Fame."

Yosemite to Rename Several Iconic Places
[Christopher Solomon/Outside Online]