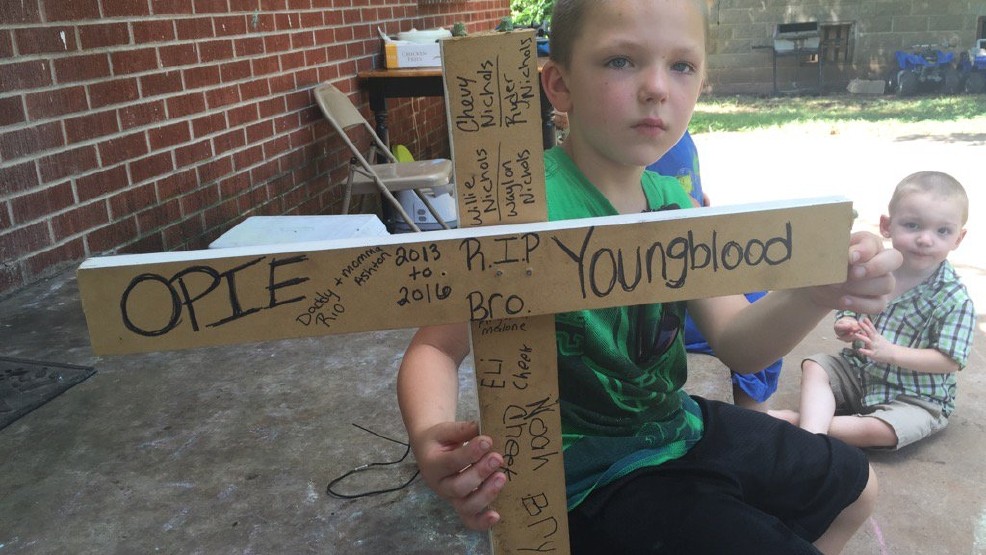 Fox News reports that kids watched as a Wynnewood, Oklahoma police officer used a high-powered rifle, retrieved from his vehicle, to kill a dog after it "lunged at him" when he entered their gated, fenced property searching for someone who had not lived there in a decade.
The police chief said the officer was serving a warrant, which gave him legal authority to be on the private property. However, the Malones said they were never shown any warrant. They were only told the officer was looking for someone who had listed that address as his ten years ago...

"I respect what the police do, but this was senseless, but he didn't show any remorse and didn't even act like he was sorry or anything," Malone told FOX 25.

The Malones believe the death of their dog could have been avoided either by the use of less-lethal force or by fact checking on the warrant.
The Wynnewood cops have already been caught in a lie: the chief claims the dog was shot "coming around the house" to attack the officer, but video shows that the dog was killed behind a closed gate in an expansive, open yard. "The police chief said he hasn't seen the video," reports Fox. "He said 'His officers have every right to shoot dogs if they feel in danger.'"
The first rule of modern U.S. police training is that you are a soldier. The second rule is kill the dogs.