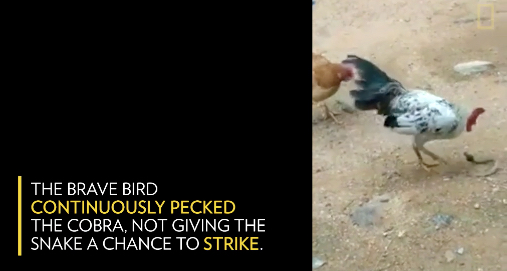 In the video below, a rooster in India tangles with a deadly cobra that can deliver enough venom in one bite to kill 20 people, and many more roosters. From National Geographic:

The rooster pushes the cobra away from the other chickens, sometimes dropping and pecking at it and sometimes running with the snake dangling from its beak. The bobbing movements of the rooster seem well-suited for this kind of fight, making it harder for the cobra to strike with its lethal venom.



At the end of the encounter, the rooster swallows the weakened snake whole, sliding the reptile into its beak as the creature's muscles coil uselessly a couple more times.