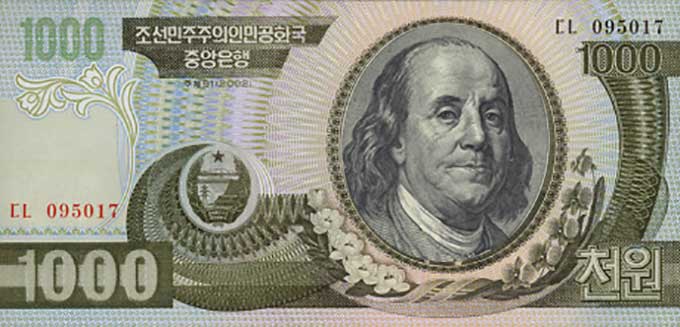 The kindly North Korean government is doing its part to contribute to quantitative easing by printing US$100 bills that are nearly indistinguishable from the ones printed by the U.S. Bureau of Engraving and Printing. Let's hope this eases tensions between the two countries!
From The Telegraph:
"It seems that whoever printed these supernotes has the facilities and high level of technology matching that of a government", Lee Ho-jung, a bank spokesman said. "They are made with special ink that changes colour depending on the angle, patterned paper and Intaglio printing that gives texture to the surface of a note".

Another bank source told The Hankyoreh newspaper, "To print supernote-level forgeries, you need a minting corporation-level production line in place, which costs hundreds of billions of won.

"This makes if difficult for ordinary criminal organisations to produce them".

Earlier versions of supernotes have been around for at least 15 years, with US government officials estimating in 2006 that as much as $250 million worth of fake $100 bills could be in circulation worldwide.

...

In the past, North Korea was believed to distribute the bills overseas through criminal groups and by transporting them abroad through the diplomatic pouch to embassies from where they could be slipped into circulation.