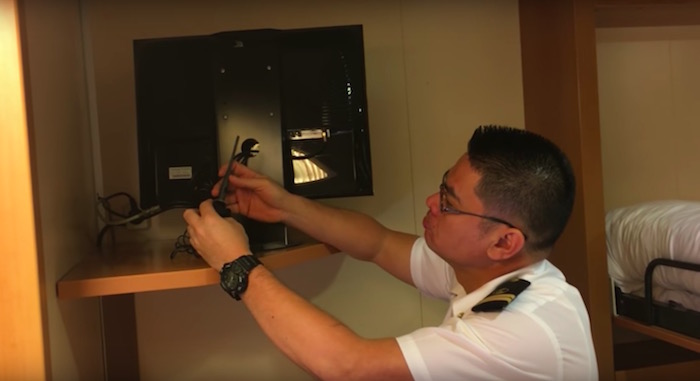 A couple and their 10-year-old boy taking a cruise from Mobile, Alabama to Mexico on Carnival Cruise Line says they found a hidden camera in their stateroom. The small camera was tucked inside the cables behind their TV.
The father of the family (who wants to stay anonymous) says after he'd had an allergy attack he poked around the room to look for dusty areas. When he looked behind the television he found the camera, with what looked like an antenna attached, which he said might have been used to transmit images.
According to Miami Herald:
The Pensacola couple and their 10-year-old son were searching for dusty areas in their cabin, No. 160 on the Carnival Fantasy, after the father suffered an allergy attack on the second night of their voyage. In the process, they uncovered a small camera hidden in the cables behind their stateroom TV, the father said.

The lens was poking out, pointing at the bed...

According to the father, the family contacted Carnival security; onboard crew inspected the device and dismantled it. Video shot by the family shows the father asking a Carnival crew member inspecting the camera whether he wants "to put gloves or something on so you can finger print it?" The crew member's response is not shown.

The father was told the camera was equipped with a transmitter like those used on drones, he said. He spoke to Customs and Border Protection officers at port who said they did not have jurisdiction in the matter, but said he was not informed whether the incident had been reported to the Federal Bureau of Investigation or other officials.
Carnival claims the camera wasn't working. The family, who has taken around 10 cruises with Carnival, isn't trying to get any reimbursement from the cruise line, they just wanted to get the word out. So far, Carnival hasn't given them any kind of apology.