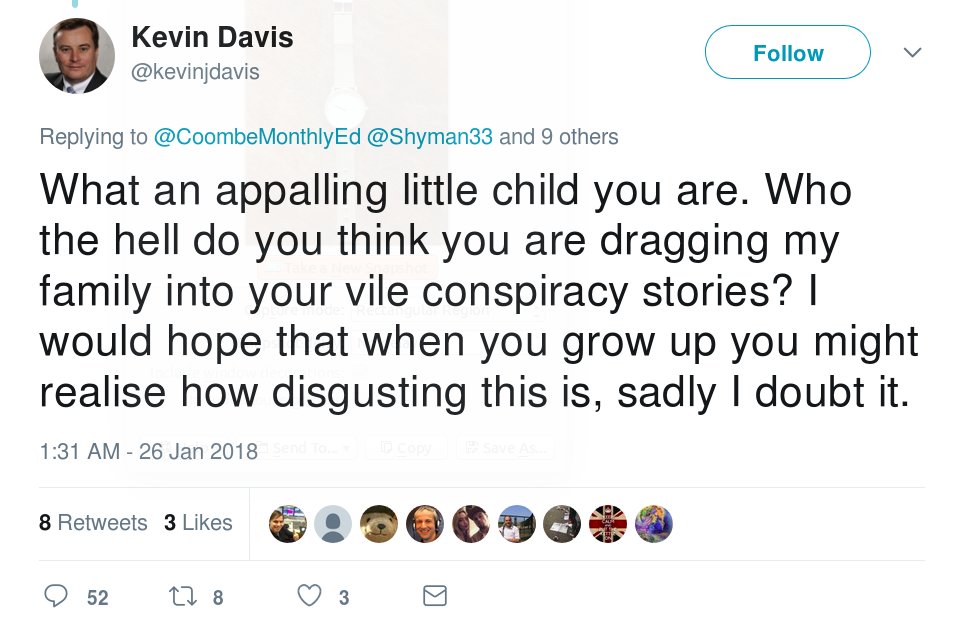 Kevin J Davis is the leader of the Council for the London Borough of Kingston-Upon-Thames; his son Cameron Davis's Linkedin profile shows that he is now a Trainee Development Manager at CNM Estates, a major contractor to the Borough of Kensington.
James Giles is a teenaged "anti-overdevelopment" activist asked Councillor Davis about the matter at a public meeting, and didn't receive an answer, so he tweeted about it, writing, "Leader of the Council's son is now a Trainee Development Manager at CNM Estates, one of Kingston's major developers. Conflict of interest? CNM also a client of Cratus. When asked over conflict of interest tonight, Davis refused to answer."
Davis replied with a shower of personal abuse for his constituent: "What an appalling little child you are. Who the hell do you think you are dragging my family into your vile conspiracy stories? I would hope that when you grow up you might realise how disgusting this is, sadly I doubt it."
After an outcry, Councillor Davis posted a statement blaming Giles for provoking him by not emailing him his questions privately. He "apologised" because Giles is "someone's son" and therefore entitled to more consideration.
He then asserted that he did not have a conflict of interest, despite his son's employment relationship with a major contractor to the government he heads.
Giles responded, pointing out that the Councillor didn't apologise for the "language" or "bullying," just for "rising to the attack."
The attempt to place the blame on me, a sixth form student, for daring to ask a genuine question – citing it as an 'attack' shows that Mr Davis does not take this matter seriously, and, in my humble opinion, is attempting to excuse his abusive and bullying behaviour.

I wholeheartedly agree with Mr Davis that his son has a right to privacy. However, that right is surely taken away when one voluntarily chooses to advertise their job position on their public LinkedIn profile. I further find the choice of grey clouds inappropriate as the image used, further suggesting negative connotations towards me and that I am at fault.

To summarise, I have had no correspondence from Mr Davis and he has not written to apologise to either me or my family.