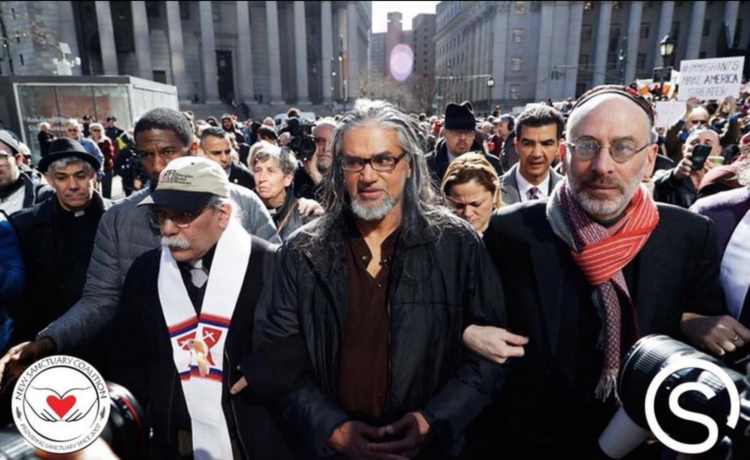 Trump's election promise to be cruel to brown people manifested most tangibly as a campaign to deport "undocumented criminals" -- but there aren't many of those (migrants are more law-abiding, on average, than native-born Americans), so now ICE is scrambling for other brown people to be cruel to.
One group of migrants who've been singled out by ICE is activists who advocate for the rights of migrants, especially the right not to be harassed by ICE. These unlucky people have grabbed out of their law-abiding beds by no-knock dawn ICE raids as the agency uses its discretion to punish people for speaking out against it.
Luckily, there's still some rule of law in America, and a New York judge has stayed the deportation of one of these activists, Ravi Ragbir, who has joined with a coalition of migrants' rights groups to sue ICE for its practice of targeting people based on their protected First Amendment activities.
The judge who sprang Ragbir had some choice words for ICE: "[I]t ought not to be—and it has never before been—that those who have lived without incident in this country for years are subjected to treatment we associate with regimes we revile as unjust."
Here are a few cases that were not mentioned in Shadowproof's report on ICE as a tool of political repression:

—Baltazar "Rosas" Aburto Gutierrez was "detained by an ICE agent who explicitly referenced the fact that he had spoken to newspapers in November 2017. Gutierrez was quoted in the press (albeit anonymously in one instance) after his partner was arrested by ICE and deported to Mexico that month. ICE declined to arrest Gutierrez because he did not have a "deportation order."

Later in December, the lawsuit recounts, the agent who arrested Gutierrez approached him. "You are Rosas," and, "You are the one from the newspaper." He added, "My supervisor asked me to come find you because of what appeared in the newspaper."

—Eliseo Jurado is married to Encalada Latorre, who is a Peruvian woman who took sanctuary in churches in Boulder, Colorado, in December 2016. He came to the U.S. from Mexico when he was a teenager, and the couple has two children, who are U.S. citizens. They have been covered extensively in the media.

Local ICE Field Office Director Jeffrey Lynch insisted Jurado's arrest had nothing to do with his wife taking sanctuary. However, he confirmed the agency took interest in Jurado when they came across him while investigating his wife.

—Amer Othman Adi came to the U.S. when he was 19 years-old. He is now 57 years-old and a businessman, husband, and father. Decades ago, the government accused him of a "sham" marriage to obtain lawful permanent resident status. He faced deportation on January 7 but ICE stayed it temporarily.
First Amendment Lawsuit: ICE Targets Immigrant Rights Groups And Activists For Political Speech [Kevin Gosztola/Shadow Proof]
(via Techdirt)
(Image: New Sanctuary Coalition)