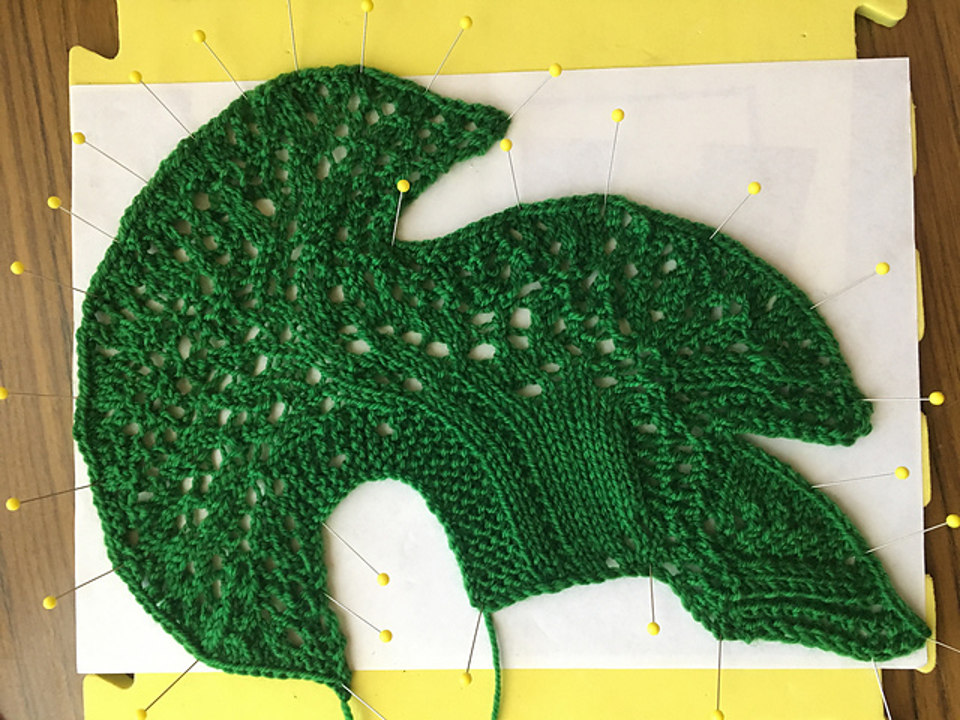 Janelle Shane of AI Weirdness is awesome: She's trained neural nets to invent all sorts of hilarious material, from the names of new colors to odd new food recipes to original Dungeons and Dragons spells.
Recently she decided to train a neural net on knitting patterns, and it began spitting out new ones. They were predictably strange, and to get a sense of precisely how strange, the fine folks at Ravelry -- a discussion site for those who knit, crochet, weave, and the like -- offered to actually produce some of patterns IRL. They've dubbed it "Skyknit".
If you belong to Ravelry you can see the results in the thread, but in case you aren't, behold pix of some of the creations above and below. The one above was knitted by MeganAnn, and it looks vaguely... organic? You can see some repeating patterns in it, but mashed together in a pretty strange fashion.
Here's another one knitted by MeganAnn ...
That one looks a bit more like a human-crafted pattern. Here's a really strange one made by datasock ...
... and winding-serpent pattern crafted by michaela112358 ...
Here's a pretty one by BellaG:
A sort of ... undersea creature? Created by also by michaela112358 ...
... and some that are pretty normal-looking! Like this one by geckogirl ...
... or this one by booksprink ...
... or this last one, by Farah Colchester:
Janelle Shane did a tweetstorm where she talked about the experience of watching the Ravelry crowd bring these things to life. As she noted, the AI's output sometimes included errors, but the knitters are awfully good at debugging. This is no surprise to anyone who knows knitters or weavers: It's a deeply algorithmic mode of thinking -- to the point where weaving produced the first punch-card-fed instruction-following machines (the Jacquard Loom) -- and these days there's quite a lot of coder-knitters:
(All pictures above used with the permission of their photographer)
Previously: An algorithm that converts 3D meshes into machine-knitting patterns