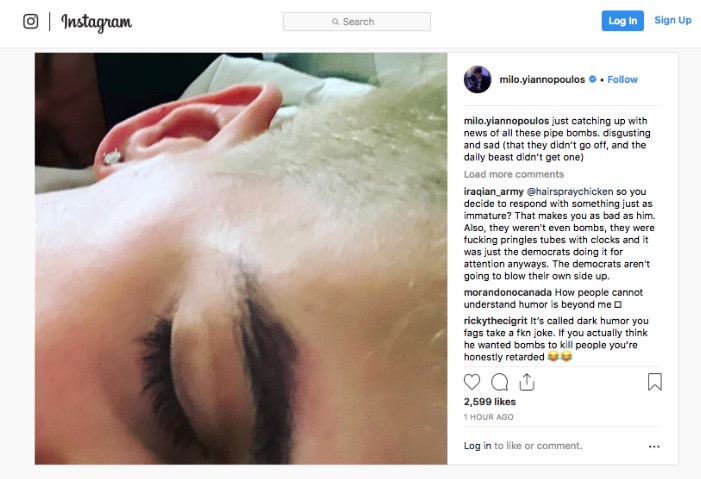 Milo Yiannopoulos, a far-right Oscar Wilde minus the talent, committed a series of gaffes last year that cost him his career. After Twitter got rid of him, his dwindling audience migrated to Instagram to read his stilted bon mots. It's telling that Yiannopoulos' precipitous drop has rendered him so inconsequential that Instagram initially didn't bother to take action when Yiannopoulos expressed dismay that the pipe bombs sent to prominent Trump critics didn't blow up, and that the Daily Beast hadn't been targeted by the terrorist (suspected to be Cesar Sayoc Jr. of Florida).
"Just catching up with news of all these pipe bombs," Yiannopoulos posted. "Disgusting and sad (that they didn't go off, and the daily beast didn't get one)."
In response to complaints, the Facebook-owned photo sharing service said the post did "not violate our Community Guidelines" and that the post would stay on Instagram.
But when the Daily Beast ran an article that read "Instagram Refuses to Pull Down Milo Post Praising Mail Bombs," a spokesperson for Instagram rode in on a high horse and solemnly declared, "This content violates our policies and has been removed from Instagram and Facebook. We prohibit celebration or praise of crimes committed, and we will remove content praising a bombing attempt as soon as we're aware."