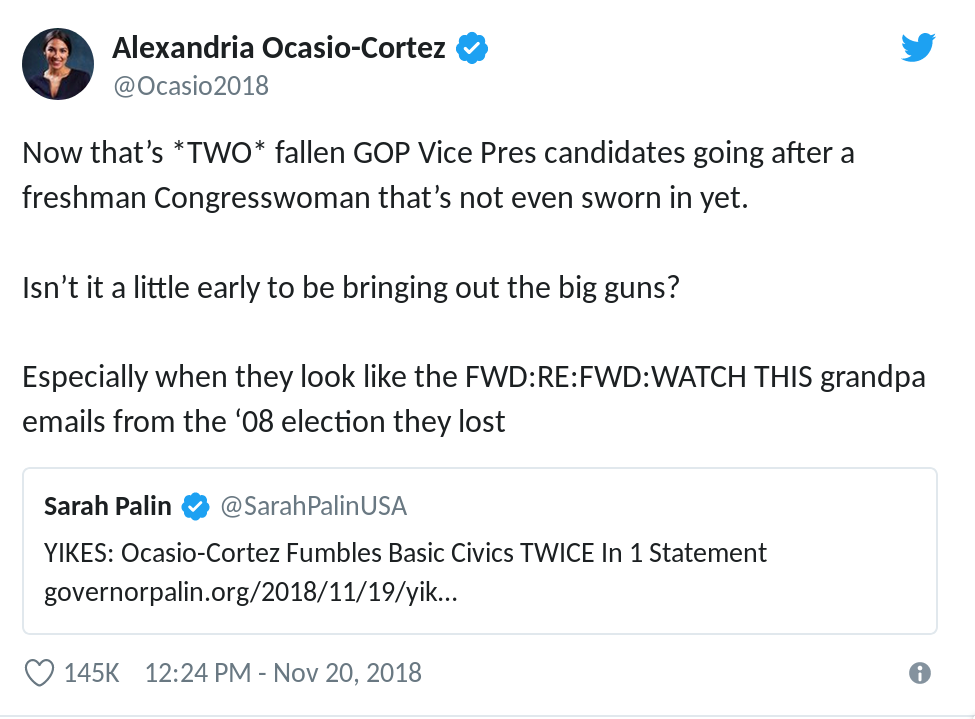 Wanna see how an insurgent, anti-establishment candidate can use snark, personality, and a combative spirit to advance the political dialog? Stop following Cheeto Hitler and start following the youngest Congresswoman in US history, the amazing, delightful, on fire Alexandria Ocasio-Cortez (previously).
ACO's social media is a nonstop riot of the Congresswoman-elect making dinner and talking about cash bail, chilling in sweats and doing a Q&A with Justice Democrats; making Sarah Palin look exactly as stupid as Sarah Palin is; zinging the fuck out of Trump and his enablers; slaughtering Republican Congressjerks unwise enough to come at her; and dropping truth bombs.
As The Mary Sue's Vivian Kane says, Ocasio-Cortez is "s lifting the veil on an institution that can seem entirely untouchable by those not born into a family or community that already has access to that world established."
It's truly the contratrumpian model for political social media.
Alexandria Ocasio-Cortez Is the Anti-Donald Trump of Social Media [Vivian Kane/The Mary Sue]