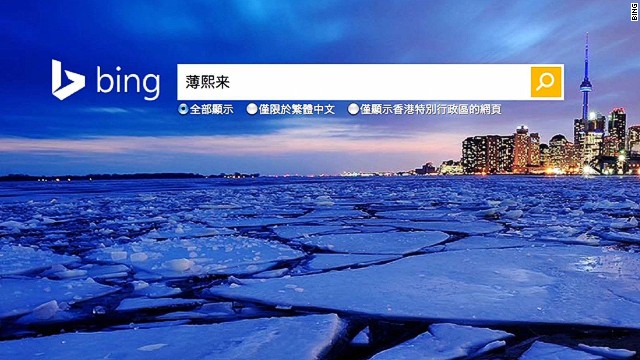 Bada bing, bada banned. China has blocked Bing, Microsoft's search engine, tonight.
Bing.com is not accessible inside China, per reports throughout the country.
Microsoft says 'we've confirmed that Bing is currently inaccessible in China and are engaged to determine next steps.'
The FT's @YuanfenYang reports that Bing was blocked throughout China following a government order. She cites two sources familiar with the matter.
"This kind of DNS corruption is usually the very literal way in which the Chinese govt tells foreign tech companies to 'go home'," tweeted Yuan Yang.
From her report in the Financial Times:
On Wednesday, mainland Chinese users wrote on social media that their attempts to access Bing's China site, cn.bing.com, were failing. Cn.bing.com is still accessible from outside of China. Microsoft said that it was investigating the situation.

Two sources familiar with the government order confirmed that Bing had been blocked. One of the sources explained that China Unicom, one of China's major state-owned telecoms companies, had confirmed the government had ordered a block on Bing.

Attempts to access cn.bing.com resulted in a connection error. The connection error was caused by an inability for the Chinese nameservers — address books that match up website names to their digital locations — to correctly retrieve the IP address of Bing's China platform. This form of nameserver corruption has been often used by the Chinese government to block platforms.

According to website visit tracker StatCounter, as of December 2018 Bing held a 2 per cent market share in China, far behind Chinese industry leader Baidu with 70 per cent.
More tweets below.
JUST IN: Microsoft says 'we've confirmed that Bing is currently inaccessible in China and are engaged to determine next steps' $MSFT pic.twitter.com/BGRZHCtaj3

— Reuters Tech News (@ReutersTech) January 24, 2019
#Microsoft confirms to Reuters that Bing is currently inaccessible in #China@StephenNellis

— Vincent Lee (@Rover829) January 24, 2019
JUST IN from Microsoft: "We've confirmed that Bing is currently inaccessible in China and are engaged to determine next steps."

— Sarah Zheng 鄭雅儒 (@_szheng) January 24, 2019
So as best I can tell, now that Bing appears to be blocked in China, the only English-language search engines still accessible to Chinese Internet users are Gibiru (which prides itself on indexing information on chemtrails and the like) and Yandex, the Russian search engine.

— Nathan VanderKlippe (@nvanderklippe) January 24, 2019
Then China came for Bing, and I did nothing, because I have never used Bing. https://t.co/YP6h4HRF4I

— Mike Forsythe 傅才德 (@PekingMike) January 24, 2019
Bada bing bada boom: China appears to have blocked the Microsoft search engine pic.twitter.com/pNylXTgRX9

— Anna Fifield (@annafifield) January 24, 2019
Now @Microsoft #china friendly Bing search engine appears to be blocked here https://t.co/ZokHRjkus4

— Robin Brant 白洛宾 (@robindbrant) January 24, 2019