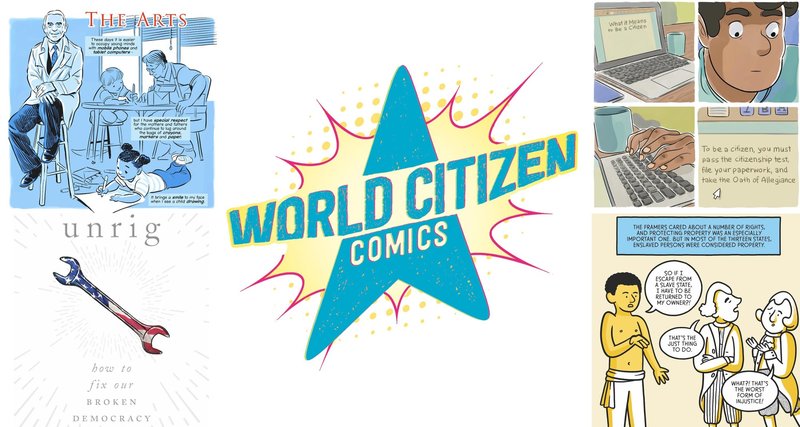 Firstsecond Books (previously, publisher of In Real Life, which I created with Jen Wang) has announced a new line of YA-oriented graphic novels called "World Citizen Comics," on contemporary activist themes like "how to fight corruption in elections, blast fake news with truth-telling, and even battle would-be dictators both near and far through a better understanding of constitutions and the rule of law."
Included in the line are What Unites Us, a graphic adaptation of Dan Rather's memoir (co-written with Elliot Kirschner); Citizen Journalist, where former criminal defense attorney turned law professor Seth Abramson describes "how to ethically write and report on their world"; The Fault Lines in the Constitution, adapted from Cynthia and Sanford Levinson's accessible primer on constitutional law; The Media Adventurer's Handbook, Melissa Hart's comic about "Decoding Persuasion in Everyday News, Ads, Videos, and More"; Breaking (the) News, Jennifer L. Pozner's deep dive into "narratives shaped by news and media makers"; Unrig: How to Fix Our Broken Democracy Maplight founder Dan Newman's text on dark money and influence; and Re-Constitution, by political scientist and nation-state mediator Beka Feathers, who brings her experience in drafting new constitutions for states that have transitioned out of tyrannical autocracies into democracies to write a book explaining how the US Constitution fits in the global framework.
This is a very exciting project from a publisher with a long history of producing incredibly successful, ground-breaking graphic titles for young readers; it couldn't be more timely.
"Why comics? It's my medium, it's where I live," says Siegel, who is an author and illustrator himself.this link opens in a new tab"It's also where I see young people living and, increasingly, adults, too. We're in a highly visual age, and the graphic novel blurs age categories, genres, and connects across all popular culture."

"Comics are an active medium, and a creative reading experience," he adds. "They have the power to influence actions in the world — from fan art, to cosplay, to shaping the world we live in. They do reach young people most effectively! And increasingly, the not-so-young, too."
First Look: World Citizen Comics aims to create super-powered activists [Anthony Breznican/EW]