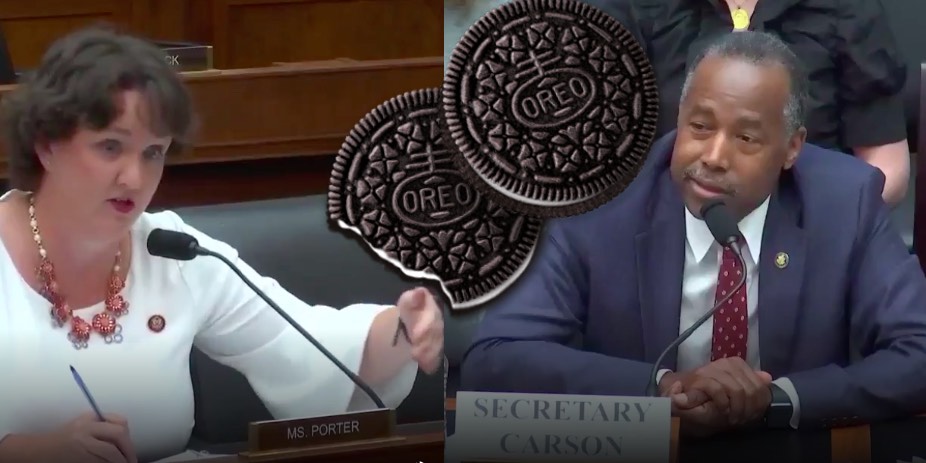 Trump Did Not Pick HUD Secretary for Smarts, Nope
Ben Carson, who is not known for being the sharpest knife in the drawer, made a real doozy of a gaffe today on Capitol Hill.
The Trump administration's Housing and Urban Development Secretary was testifying at a House Financial Services Committee oversight hearing in Washington on Tuesday, and confused 'REO,' meaning HUD real estate owned, with 'OREO,' the delicious sandwich cookie that has two chocolate wafers and creamy vanilla filling.
Carson was going back and forth pompously with freshman Rep. Katie Porter (D-Calif.), and he asked if she was referring to an "Oreo."
He really did.
From Katie O'Donnell Politico:
REO homes are acquired by HUD after a foreclosure on a Federal Housing Agency-insured mortgage, and Porter said foreclosure rates for such properties were higher than for homes not backed by the FHA.

She asked Carson to "explain the disparity in REO rates — do you know what an REO is?"

"An Oreo?" Carson responded.

"No, not an Oreo. An R-E-O. R-E-O," Porter said, prompting Carson to offer, "real estate?"

"Real estate owned – that's what happens when a property goes into foreclosure, we call it an REO, and FHA loans have much higher REOs, that is, they go into foreclosure rather than into loss mitigation or to non-foreclosure alternatives like short sales, than comparable loans" at Fannie Mae and Freddie Mac, said Porter, who later tweeted out the exchange.
So, then, the Congresswoman tweets the exchange.
And then, Ben Carson, the United States Secretary for Housing and Urban Development, a complete idiot, tweeted this.
OH, REO! Thanks, @RepKatiePorter. Enjoying a few post-hearing snacks. Sending some your way! pic.twitter.com/q4MMTBWVUI

— Ben Carson (@SecretaryCarson) May 21, 2019
And THEN...
The brands got involved.
𝗥𝗘𝗢 stands for "𝗥eally 𝗘xcellent 𝗢REO (cookie)." Everyone knows that.

— OREO Cookie (@Oreo) May 21, 2019
Well, at least this REO is safe for now.
With Ben Carson in the news, here's an interesting Ta-Nehisi Coates reflection from 2013 in @TheAtlantic on who Carson was before he started "promoting himself at the expense of the community in which I once saw him labor." https://t.co/gmZvzqevzi pic.twitter.com/4CD9WP4jgC

— Eric Columbus (@EricColumbus) May 21, 2019