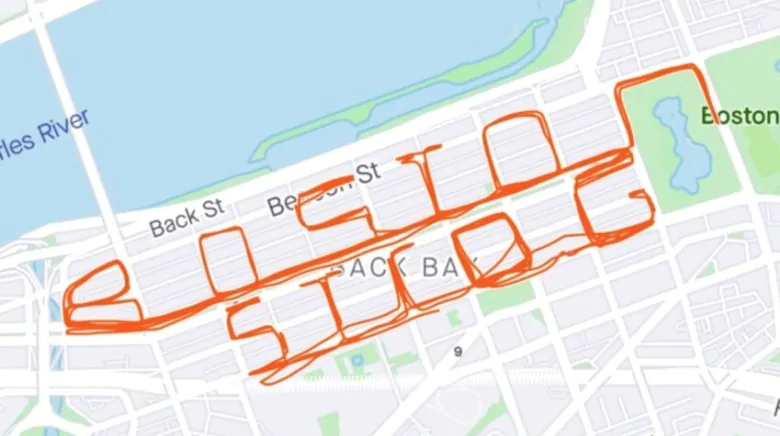 It's wicked weird, kid, being stuck at home in Boston this April week, exactly 7 years after the last time I was stuck in this same home during this same exact April week for very different but still terrifying reasons.
But it made me feel a little better when I saw that Lindsay Devers, a nurse anesthetist at Massachusetts General Hospital, had designed her own 26.2-mile running route around Boston's Back Bay, in a way that spell out "Boston Strong" — harkening back to that fateful week in 2013 when the bombs went off.
It wasn't until after this healthy healthcare heroine completed her solo marathon trek that she realized that she forgot the "n" in "Strong." From CBC Radio:
"I pulled up the app and I instantly was like, oh no, I spelled it wrong ," she said.

Despite the initial frustration, Devers is keeping a good sense of humour about the gaffe.

"I think a lot of people are inspired by it. And a lot of people have had some really good laughs," she said. "So I think it's a great comic relief in this stressful period."
And honestly? That warms my quarantined heart even more.
Devers had already been training to run the Boston Marathon to raise money for Dream Big! From her GoFundMe campaign (which you can still give to, if you're so inclined):
Dream Big! is a 501c(3) non-profit supporting opportunities for young girls who, due to economic circumstances, are unable to participate in athletic  endeavors. The mission of Dream Big! is to help young girls and young women from low-income situations achieve their dreams by providing them with equipment, sports attire, athletic footwear, training and program fees, and leadership training needed for them to participate in sports and physical activities that contribute to the health, education, and overall well-being. Dream Big! has impacted over 8000 girls in 125 sports programs and schools in economically disadvantaged communities last year. Funds raised through the B.A.A. Boston Marathon Official Charity Program will help Dream Big! to further breakdown the economic barrier that currently prevents  many girls from participating in sports and physical activities.
I hope to buy this woman a beer once/if this ever ends.
'Oh no, I spelled it wrong': Nurse runs solo marathon in shape of 'Boston Strog' [As It Happens / CBC Radio]
She tried to spell 'Boston Strong' by running through Boston. Just one thing was missing. [Nicole Yang / Boston Globe]