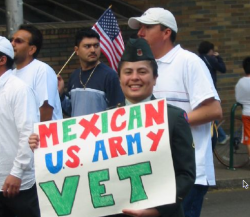 portland.metblogs.com contributor dieselboi says,
"About 10-12,000 people came out, mostly families, to rally and march for May day. The immigration issue was the topic of the day and many were there in support of immigrant rights. The signs were precious, especially 'Patriot Axe' and 'Who's gonna build the wall.' I was able to march with the crowd and the mood was high and joyous. There were families, young kids, seniors ... even a few anarchists."
Link.
Related BoingBoing posts about the May 1 marches: Tampa, Los Angeles part 1, New York City, San Francisco, Tijuana, Chicago, Seattle, Los Angeles part 2, Los Angeles part 3. An update on reports that police used excessive force on protesters in MacArthur park is here.