Kindle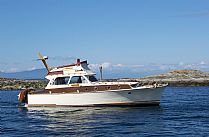 Paul Boutin
says, "This boat ad for a 37-foot 1964 Wheeler Express Cruiser claims it was used as the S.S. Minnow in
Gilligan's Island
."
Link. Price: $99,000.
Reader comment: The Liberal Avenger says,
1964 didn't sound right to me for Gilligan's Island. Even though I was born in 1970, I remember black and white episodes of Gilligan's Island. IMDB shows Gilligan's Island starting in 1962: Link.
(
Ed. note: I haven't had time to research this one, and I have no idea if the sale listing is legit or not. But thinking out loud here -- it's conceivable that more than one boat was used as the S.S. Minnow during the show's many years of production. If so, it would be possible for this one to have been used from 1964 on.
)
Reader Tom L. says,
The Gilligan's Island Fan Club web site page on the Minnow makes it look like this probably is one of the four actual Minnows: Link. They have a story about Minnow #3 being found and restored by a guy in British Columbia. They list the model as 1964 Wheeler, and say it was used in the second season.
Boing Boing editor/partner and tech culture journalist Xeni Jardin hosts and produces Boing Boing's in-flight TV channel on Virgin America airlines (#10 on the dial), and writes about living with breast cancer. Diagnosed in 2011. @xeni on Twitter. email: xeni@boingboing.net.
More at Boing Boing