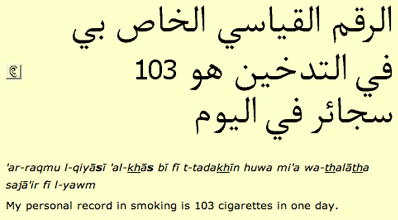 A roundup of fun little stuff at the end of a long work week:
# Discuss your smoking habits in Arabic: Link (Thanks, Hugo).
# Are you ready to have my thang in your mouth? Link to a short video clip from Dateline NBC. (via Defamer)
# Hot new flooring trend in Canada? Dead women at the bottom of a staircase, courtesy of the Red Cross Link (thanks, Seth).
# How They Found Pussy (totally work-safe): Link.
# Prosthetic fuzzy-mommy-hands for prematurely born babies, with the scent of a parent: Link.
# 1975 Star Trek promotional flyer from Toys R Us: Link (thanks Scott).
# Papercraft Polaroid camera: Link.
# Happy 10th birthday, Disinfo.com! (Thanks, Denis)
# Vintage tobacco ads: Link (thanks, IZ Reloaded).
# WTC in mid-'70s cigarette ad from Playboy Magazine: Link (Thanks, Dan)
# Baby's first Modernist Alphabet Flashcards: Link
# The Princess and the Processor: Norwegian reality show setup involving smart computer and dumb blonde. "I can't understand the computer language they are talking." Link (Thanks, Andrew)
# Guerilla wedding at the Metropolitan Museum of Art in NYC: Link (thanks HeyTomK)
# And BoingBoing reader HornCologne says,
"Following the long and successful career of the Kraftwerk remix as the ring-tone on my cell, I present you ... Boing Boing Woop, remixed from that Danish rap song you posted yesterday. BTW, I love the part in the song where the guy sings blah-blah-blah-dont-understand-anything-in-Danish SEXY ASS blahblah.' It totally reminds me of Channel 9 from the BBC's Fast Show."
Link
to the BoingBoing Danish rap ringtone.
Previous installments of BoingBoing Omakase Links:
Post-holiday bluesnixer roundup