CNet editor's wife and kids found alive, Kim still missing
Read more at Boing Boing
Read more at Boing Boing
Read more at Boing Boing
---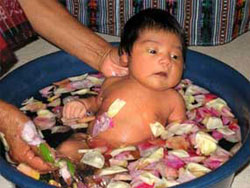 I've been traveling in Guatemala since early November, working on a series of stories. Here's a recent batch of notes from the road from the past few days, and the entire trip journal is at xeni.net/trek.
---
The New Atlantis has a long, interesting article about J. Robert Oppenheimer, head of the Manhattan Project. It was Oppenheimer whom the public lionized as the brains behind the bomb; who agonized about the devastation his brilliance had helped to unleash; who hoped that the very destructiveness of the new "gadget," as the bombmakers called their invention, might make war obsolete; and whose sometime Communist fellow-traveling and opposition to the development of the hydrogen bomb—a weapon a thousand times more powerful than the bombs that incinerated Hiroshima and Nagasaki—brought about his political disgrace and downfall, which of course have marked him in the eyes of some as all the more heroic, a visionary persecuted by warmongering McCarthyite troglodytes. His legacy, of course, is far more complicated. Link
---
The excellent "Core77" design blog and website have a nifty guide to 77 gift ideas costing under $77. Handheld Smoke Signal -- Guaranteed to attract plenty of attention from the neighbors, nothing says "look at me" more than waving one of these at the holiday picnic.