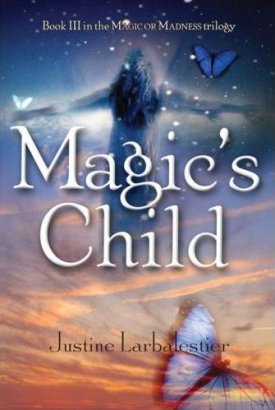 Justine Larbalestier has concluded her wonderful young adult fantasy trilogy, Magic or Madness. The third volume, Magic's Child, brings the series to a really satisfying, complex conclusion that's both brave and thought-provoking.
In the Magic or Madness series, we are introduced to a magic system in which those born to magic die a little every time they use it -- but go insane if they refuse to use it (hence the title).
Reason Cansino, the 15-year-old narrator, starts the series by being separated from her maddened mother, and being sent to live with her "evil" grandmother. There, she learns that magic-wielders can extend their lives by drinking the magic of others, draining them to live.
By book three, the cast of characters includes nigh-omnipotent deceased relatives, evil, dysfunctional parents, and a trio of spunky young people whose hormones war with their senses.
I won't spoil the conclusion for you, but there's something really disturbing and thought-provoking that happens by the end of the book, a direction I hadn't expected and that has me thinking about it still.
This trilogy is ready-made for smart, curious kids who look to fantasy for more than escape -- who look to fantasy literature to stretch their understanding of the real world. Link
See also: Kids' fantasy novel blends magic with modernity - Tolkien meets Coupland