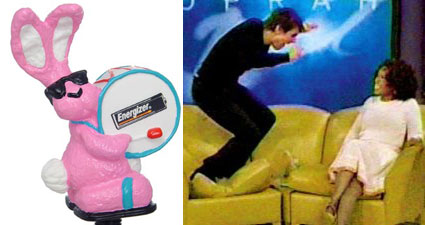 Six teen girls in rural Tennessee have been charged with conspiracy to commit homicide. Their high school principal contacted authorities after learning of a "hit list" with 300 names, and a MySpace post that included the word "kill."
School officials said the list, discovered in a classroom trash can, mostly named students and faculty members but also included Tom Cruise, Oprah Winfrey and the Energizer Bunny.

Sequatchie County High School Principal Tommy Layne said that he initially considered it a joke, but that authorities then found the ninth-graders' online MySpace pages and postings that included the word "kill."

(...) There was no evidence that the girls had weapons or that an attack had been imminent, Huth said. The girls, ages 14 and 15, were charged with conspiracy to commit criminal homicide late Wednesday and taken to a juvenile facility.
Link
(
Thanks, Roger
)