Kindle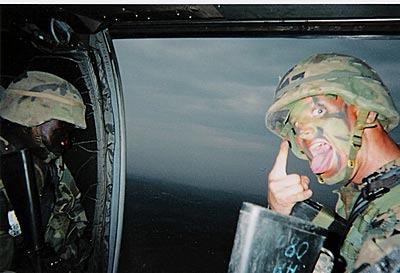 The Electronic Frontier Foundation (EFF) has filed a lawsuit against the Department of Defense, "demanding expedited information on how the Army monitors soldiers' blogs," according to an announcement from the digital rights group.
Here is a PDF copy of the EFF complaint about the Army Web Risk Assessment Cell: Link (thanks, Marcia Hofmann/EFF).
Noah Shachtman at Defensetech has been diligently covering this story, long before anyone else was aware of it -- he has more on the legal battle here: Link.
Previously on BB:
NPR: Pentagon crackdown on milblogs (audio report)
IMAGE: The author of milblog "Midnight Casket" is 25-year old Alabama native Jeff Barnett, shown here. He is a mechanical engineer with the US Marines most recently deployed in Fallujah, Iraq. Jeff is also a huge gamer, and particularly into XBOX360 and Halo. Check out this cool gaming forum he hosts: Link.
Boing Boing editor/partner and tech culture journalist Xeni Jardin hosts and produces Boing Boing's in-flight TV channel on Virgin America airlines (#10 on the dial), and writes about living with breast cancer. Diagnosed in 2011. @xeni on Twitter. email: xeni@boingboing.net.
More at Boing Boing