Sugar that looks like ants
Read more at Boing Boing
Read more at Boing Boing
Read more at Boing Boing
---
Ed Arnold says: For years here in Memphis, there is a man who has cut people's hair with a butane torch.
---

Link to t-shirt site. They're 18 bucks, only available through April 6. (Thanks, R. Stevens of Dieselsweeties)
Reader comment: anonymouscoworker says, The number on the shirt (1 888 STFU LOL) is owned by a company called United Carriers Network and is available for sale, though their pricing information was locked behind an online submission form and subsequent "sales" email.
---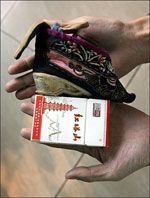 There's a pretty intense slideshow on Yahoo News with photographs of the feet of women with bound feet (you see naked, morphed feet, outside of the tiny shoes).