Credit card offers in-game World of Warcraft rewards: it's real now
Read more at Boing Boing
Read more at Boing Boing
Read more at Boing Boing
---

At 6 PM ET today, the New York Mercantile Exchange will offer a new market for uranium futures. The nucular stuff is hot.
---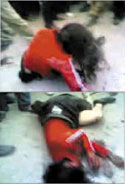 Cellphone videos that depict a teenage girl being stoned to death by a crowd surfaced online last week. Statements on the Kurdish website jebar.info claim the incident took place in Mosul, Iraq, and that the girl was Du'a Khalil Aswad, a 17-year old Kurd who was being killed for having had a relationship with a Sunni Muslim boy in a nearby town.
---
One of my favorite living artists, Camille Rose Garcia, is having her first solo museum exhibition of her fantastically surrealist paintings at the San Jose Museum of Art beginning next week.