Kindle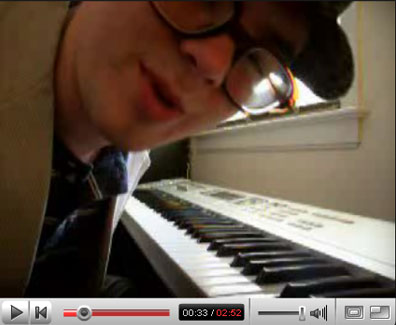 Boing Boing reader HallieDeCatherine says,
Ronald Jenkees is a video blogger who started a YouTube channel over a year ago.

He is a musical genius, coming correct with some bad-ass keyboarding skills on his Korg Triton and producing sick hip-hop beats on FL Studio. He has almost 6000 YouTube subscribers.

Funny thing is..... you can't really figure this guy out! He's a super geek who squints constantly and wears coke bottle glasses. He has a really soft voice and chuckles at himself as he spouts off self-defeating, lame-o, uber-geek comments.

Apparently he just released a new CD, but I have not listened.
Boing Boing editor/partner and tech culture journalist Xeni Jardin hosts and produces Boing Boing's in-flight TV channel on Virgin America airlines (#10 on the dial), and writes about living with breast cancer. Diagnosed in 2011. @xeni on Twitter. email: xeni@boingboing.net.
More at Boing Boing