Kindle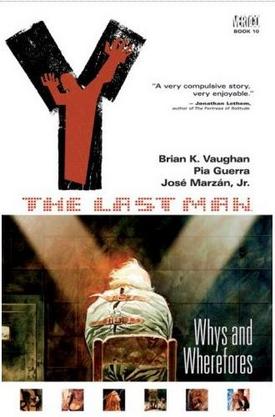 It's a measure of how far behind I am in my reading that I've only
just
gotten to read the final volume of Brian K Vaughan and Pia Guerra's graphic novel "Y: The Last Man," which I've been following for years now, eagerly awaiting the resolution of the series' many storylines and subplots (for those of you who have the good fortune to be discovering this for the first time --
here's the first issue
-- I'll sum up quickly: a mysterious event simultaneously kills every man on earth except for Yorick Brown, a down-on-his-luck escape artist whose fiancee, Beth, is on the other side of the world in Australia; he spends the next five years touring the planet's many brave and terrible places looking for her, while he is pursued by geopolitical powers of varying types and character).
Endings are hard. Vaughan and Guerra nailed it.
After six years of following this story, there were times when I despaired for it. The world of Y was so broken, the storylines so convoluted, and some of the hints at resolution were so off-kilter (particularly the last volume, which hinted at a quasi-mystical direction that really left me cold) that I seriously doubted that the creators would be able to end it all in a way that made it all come together with dignity, credibility and real love for the principle characters.
This last volume, called "Whys and Wherefores," does it all. It opens with a rocketing storyline that tears towards a massive and gripping climax, and then moves into a denouement that is one of the best I've ever had the pleasure of reading. Endings are hard, denouements (the part after the climax where the audience catches its breath and the last momentum of the story rolls on) are harder.
It's hard to say more without spoilering the surprises. But the denouement is what makes this ending really, really work: it's a fantastically satisfying tying-up-of-knots, sketching-of-the-future -- it's bittersweet, loving, funny, witty, and makes maximal work of the visual storytelling that makes graphic novels one of the great art-forms of our time.
Now that all ten volumes are out, I would like nothing better than to pick them all up and re-read them from start to finish. I have a feeling that I'd end up getting through the lot in about 36 hours, without sleeping. But man, I am so far behind in my reading, and there's so much good stuff on the pile, that this will likely have to wait for some golden age in my future when I get to do that kind of pleasure reading again. I can't wait. Y: The Last Man, Vol. 10: Whys and Wherefores, Book 9 Link, Book 8 Link, Book 7 Link, Book 6 Link Book 5 Link, Book 4 Link, Book 3 Link, Book 2 Link, Book 1 Link
See also:
* Fan video-game treatment for Y: The Last Man comic
* Y: The Last Man - Kimono Dragons
* Must-read comic, Y: The Last Man
* New "Y: The Last Man" collection
* New "Y: The Last Man" collection: great sf adventure comic


I write books. My latest is a YA science fiction novel called Homeland (it's the sequel to Little Brother). More books: Rapture of the Nerds (a novel, with Charlie Stross); With a Little Help (short stories); and The Great Big Beautiful Tomorrow (novella and nonfic). I speak all over the place and I tweet and tumble, too.
More at Boing Boing