Funny yule log screensaver from PES films
Read more at Boing Boing
Read more at Boing Boing
Read more at Boing Boing
---
Our chocolatier friends at TCHO have released their 1.0 "gold master" bars. I've been nibbling on their betas for months, and can hardly wait to taste these.
---
In a strange neuroscience experiment, researchers determined that an individual wearing virtual reality goggles showing video streaming from another person's body can have the sensation that the other body is his or her own.
---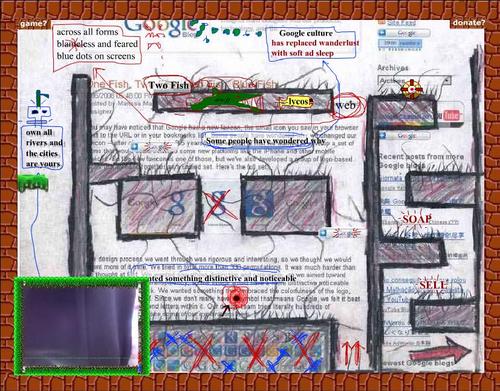 I don't know that I've ever seen any computer art quite as -- I'm sorry, there's no other way of putting this -- as fucked up as "I made this, you play this, we are enemies," a Flash game that really strongly resembles the unmistakable bonkerosity of the complicated sketches left behind the crazy people who used to sit at their own tables in the library I worked at, furiously drawing for 10 hours at a stretch. It's brilliant and terrible all at once and that is why I love it.