Circuit-board shoes
Read more at Boing Boing
Read more at Boing Boing
Read more at Boing Boing
---
According to The Times, this unusual animal was captured in the Sichuan province in remote central China. Nicknamed "the oriental yeti," the unidentified animal is on its way to Beijing for DNA tests.
---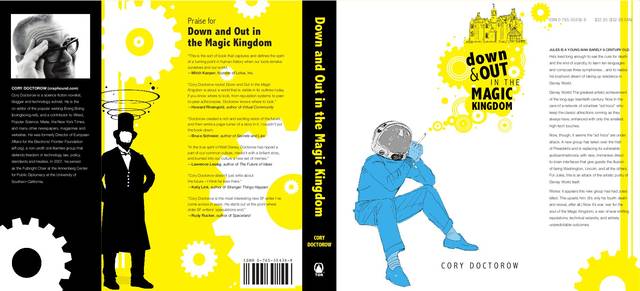 Danielle Mathieux, an MFA student, produced an alternate cover for my novel Down and Out in the Magic Kingdom as part of her degree. She's released it under a Creative Commons Attribution-NonCommercial-ShareAlike. I think it's just swell!
---
While watching vintage Mickey Mouse cartoons on YouTube, my son and I happened upon this 1929 delight. The Karnival Kid is Mickey's first ever speaking role, finding his voice with the powerful words "Hot dogs!" Of course, "Hot dog!" would go on to become one of Mickey's trademark catchphrases. The Karnival Kid also stars the lovely and talented Minnie Mouse, as the Shimmy Dancer.