Kindle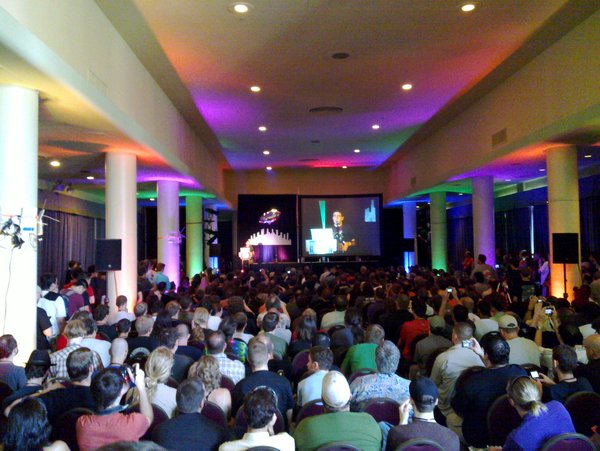 Announcers at The Next HOPE are introducing Julian Assange as the keynote speaker, as I type this blog post. Despite earlier reports of federal agents at the hacker con hoping to detain and question the Wikileaks founder, he is rumored to be present in NYC—though I wouldn't bet my PGP key on it. False rumors and disinfo flow at hacker gatherings as freely as do the caffeinated beverages.
Keynote to be streamed here, whoever delivers it, and from wherever they happen to be speaking.
IMAGE: a packed crowd in the room where the presentation will take place (photo: PDP7).
UPDATE: Jake Appelbaum will apparently be delivering the keynote in Assange's place.
UPDATE 2: Here's Jake's talk in MP3. Announced during the session, blog.wikileaks.org has been launched, and several APIs will soon be released. The first blog entry details some architectural and security updates.
UPDATE 3: Here's Quinn Norton's report at Gizmodo. (thanks, Quinn)
Boing Boing editor/partner and tech culture journalist Xeni Jardin hosts and produces Boing Boing's in-flight TV channel on Virgin America airlines (#10 on the dial), and writes about living with breast cancer. Diagnosed in 2011. @xeni on Twitter. email: xeni@boingboing.net.
More at Boing Boing