Kindle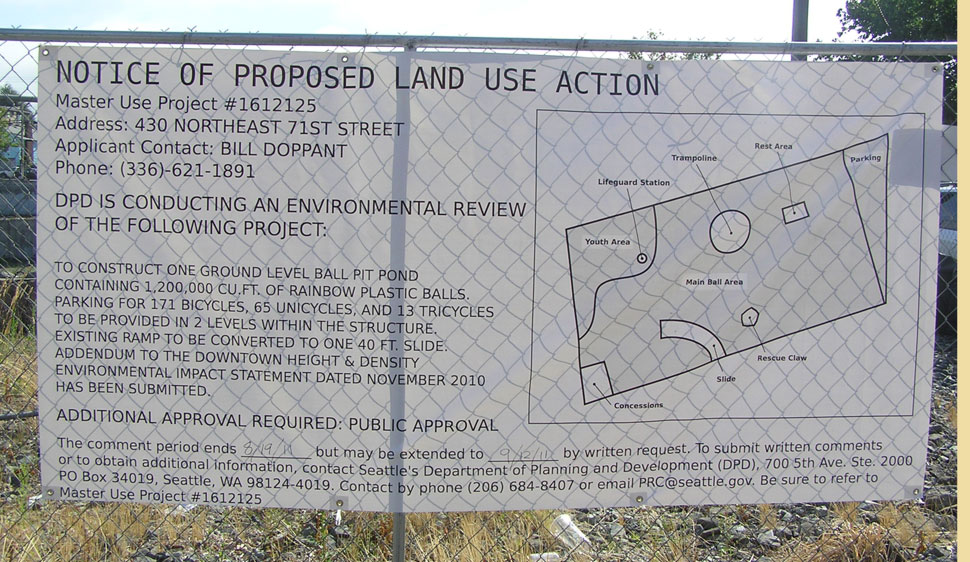 (Photo: courtesy John Creed, via My Green Lake, a Seattle area neighborhood blog.)
In the Seattle neighborhood of Green Lake, a three-acre empty lot known to locals as the "Big Hole" has been reimagined as an awesome and ginormous play pit. The eyesore has been sitting there for three years. Mygreenlake.com reports:
The sign, a parody of a Seattle Department of Planning and Development land use sign, indicates that the empty lot will be used "to construct one ground level ball pit pond containing 1,200,000 cu. ft. of rainbow plastic balls."

"Parking for for 171 bicycles, 65 unicycles, and 13 tricycles to be provided in 2 levels within the structure," the sign reads. "Existing ramp to be converted to one 40 ft. slide."

A map on the sign shows a trampoline, a concessions area and a "rescue claw."
The blog post has been picked up by King5.com, and by MSNBC.
Boing Boing editor/partner and tech culture journalist Xeni Jardin hosts and produces Boing Boing's in-flight TV channel on Virgin America airlines (#10 on the dial), and writes about living with breast cancer. Diagnosed in 2011. @xeni on Twitter. email: xeni@boingboing.net.
More at Boing Boing