Kindle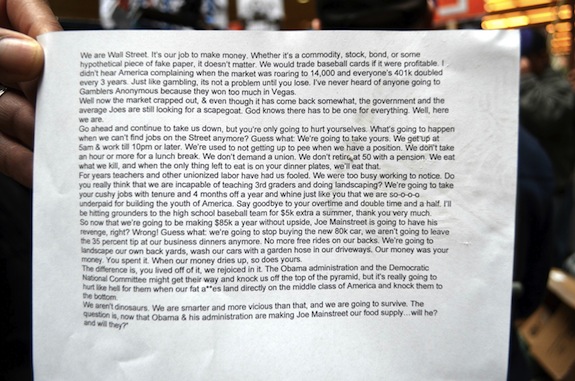 Someone in the Chicago Board of Trade dropped this printed rant on top of "Occupy Chicago" protesters this Wednesday, as demonstrators and union workers gathered in the city's financial center:
We are Wall Street. It's our job to make money. Whether it's a commodity, stock, bond, or some hypothetical piece of fake paper, it doesn't matter. We would trade baseball cards if it were profitable. I didn't hear America complaining when the market was roaring to 14,000 and everyone's 401k doubled every 3 years. Just like gambling, its not a problem until you lose. I've never heard of anyone going to Gamblers Anonymous because they won too much in Vegas.

Well now the market crapped out, & even though it has come back somewhat, the government and the average Joes are still looking for a scapegoat. God knows there has to be one for everything. Well, here we are.

Go ahead and continue to take us down, but you're only going to hurt yourselves. What's going to happen when we can't find jobs on the Street anymore? Guess what: We're going to take yours.
More: The Daily Caller, Raw Story. (via Susannah Breslin).
Boing Boing editor/partner and tech culture journalist Xeni Jardin hosts and produces Boing Boing's in-flight TV channel on Virgin America airlines (#10 on the dial), and writes about living with breast cancer. Diagnosed in 2011. @xeni on Twitter. email: xeni@boingboing.net.
More at Boing Boing