Kindle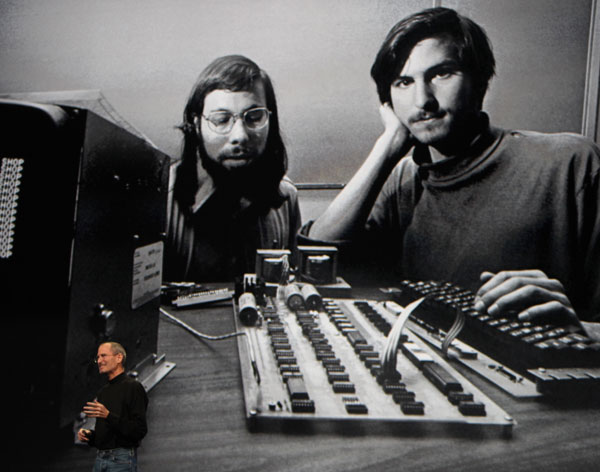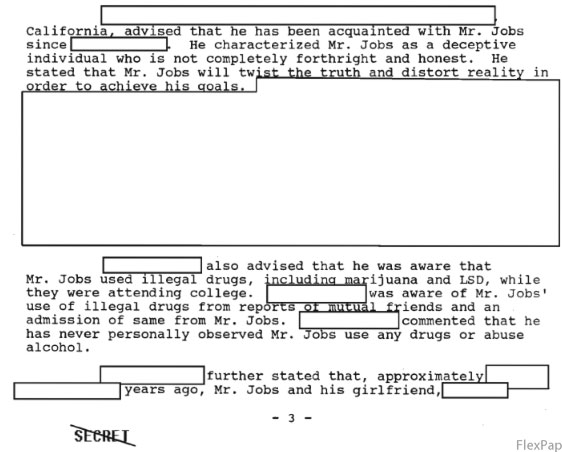 In 1991, the FBI began interviewing Steve Jobs and people he worked with, as the CEO of Next Inc. "began to be considered as a candidate for sensitive, presidential appointments."
Here is Steve Jobs' FBI file, released under the Freedom of Information Act.
"Several individuals questioned Mr. Jobs' honesty stating that Mr. Jobs will twist the truth and distort reality in order to achieve his goals," reads the FBI summary.
Other elements of note: as a student, he had a 2.65 GPA. There was a bomb threat against him in 1985. There's a passing reference to a "hippie friend" on whose apple orchard the man who would later co-found Apple worked. And there's an excellent specimen of early 1990s FBI fax art, page 129.
You'll be shocked, shocked I say, to learn that Apple has declined to comment on the file's release. More context: WaPo, Wired, LA Times, SF Chron.
(Photo: Jobs beneath a photograph of him and Apple-co founder Steve Wozniak from the early days of Apple during the launch of the iPad in San Francisco, January 27, 2010. REUTERS.)
Boing Boing editor/partner and tech culture journalist Xeni Jardin hosts and produces Boing Boing's in-flight TV channel on Virgin America airlines (#10 on the dial), and writes about living with breast cancer. Diagnosed in 2011. @xeni on Twitter. email: xeni@boingboing.net.
More at Boing Boing