Kindle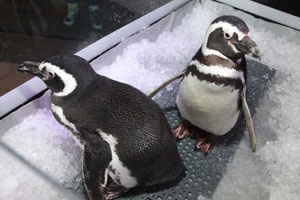 [Video Link.] Yahoo's "Sideshow" blog has the story behind this video, and an accompanying photo gallery slideshow. On a recent Delta Flight, there were 300 or so human passengers and two foot-and-a-half tall penguins, Pete and Penny, who are 6 and 12 years old respectively. They were on their way to the New York premiere of "Frozen Planet," a new Discovery Channel documentary series narrated by Alec Baldwin. Like the narrator, the penguins fly first class. I hope they behaved better on the plane than he has been known to.
[photo: SeaWorld penguins Pete and Penny on display at the "Frozen Planet" premiere at Alice Tully Hall, Lincoln Center on March 8, 2012 in New York City. Astrid Stawiarz/Getty Images]
Boing Boing editor/partner and tech culture journalist Xeni Jardin hosts and produces Boing Boing's in-flight TV channel on Virgin America airlines (#10 on the dial), and writes about living with breast cancer. Diagnosed in 2011. @xeni on Twitter. email: xeni@boingboing.net.
More at Boing Boing