Kindle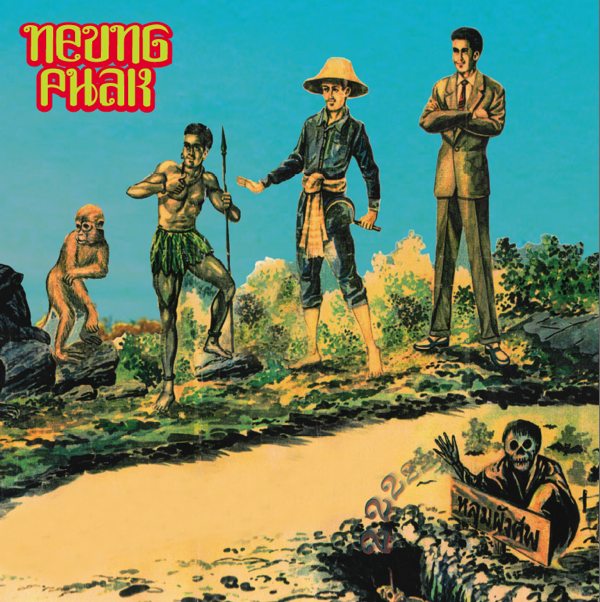 Last week, I posted about Alan Bishop and Sublime Frequencies, the fantastic label that issues outernational psych, and folk from Indonesia, China, Myanmar, and other locales. Mark Gergis is one of Sublime Frequencies' intrepid travelers and he has his own band, Neung Phak, whose music is inspired by the strange brew of "exotic" music Gergis has encountered during his adventures in Southeast Asia. Spun-off from Gergis's previous band Mono Pause, Neung Phak refer to themselves as a "Bay Area Southeast Asian bar band." I can only describe Neung Phak as raw, global pop punk heavily informed by the local flavors of folk/pop/acid-rock in Cambodia, Laos, Vietnam, and Thailand. Their new album, 2, is available from Forced Exposure in a limited vinyl edition of 500 copies with a digital download card. It's consistently powerful and moves from trippy psychedelic jams to weird poppy ass-shaking groovers without missing a beat. From Neung Phak's label, Abduction:
Neung Phak have returned with their second full-length studio LP. 2 showcases molam-folk pop and acid-rock hauntings from Thailand's yesterday and today, Javanese dance floor dangdut, and Cambodian instrumental dramas -- all retold in inimitable Neung Phak parlance. The stunning Indonesian pop gem, "Bang Toyib," (heard above), features guest Alan Bishop (Sun City Girls) on Bahasa vocals. Thai dance-pop cuts "Poot" and "Poo Jud" feature veteran singer Diana Hayes. The damning "Fucking USA" was purportedly recorded in a North Korean studio -- and the epic retelling of the classic southern Thai-styled "Sat Chatri," closes down the LP in sprawling, psychedelic form.
David Pescovitz is Boing Boing's co-editor/managing partner. He's also a research director at Institute for the Future. On Instagram, he's @pesco.
More at Boing Boing