Kindle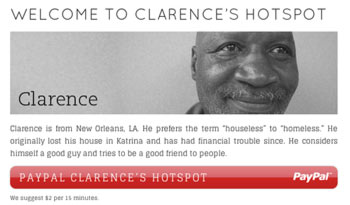 Over the weekend, I noticed that David Gallagher of The New York Times observed in Austin, "Homeless people have been enlisted to roam the streets wearing T-shirts that say 'I am a 4G hotspot."
A number of other folks I follow on Twitter who are attending the annual SXSW event there mentioned it, too, with concern. Here's the project's website, detailing their system to PayPal each "homeless hotspot" person directly. "We suggest $2 per 15 minutes."
The project was created by a team at global ad agency BBH.
Jon Mitchell at RWW has more. The problem, as he sees it:
The Homeless Hotspots website frames this as an attempt "to modernize the Street Newspaper model employed to support homeless populations." There's a wee little difference, though. Those newspapers are written by homeless people, and they cover issues that affect the homeless population. By contrast, Homeless Hotspots are helpless pieces of privilege-extending human infrastructure. It's like it never occurred to the people behind this campaign that people might read street newspapers. They probably just buy them to be nice and throw them in the garbage.
Tim Carmody at Wired News has more about the project's roots, and why he and others find it troubling:
This is my worry: the homeless turned not just into walking, talking hotspots, but walking, talking billboards for a program that doesn't care anything at all about them or their future, so long as it can score a point or two about digital disruption of old media paradigms. So long as it can prove that the real problem with homelessness is that it doesn't provide a service.
Boing Boing editor/partner and tech culture journalist Xeni Jardin hosts and produces Boing Boing's in-flight TV channel on Virgin America airlines (#10 on the dial), and writes about living with breast cancer. Diagnosed in 2011. @xeni on Twitter. email: xeni@boingboing.net.
More at Boing Boing