Kindle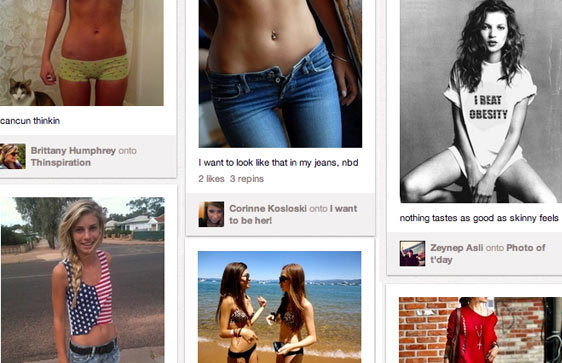 Antonio A. Casilli at BodySpaceSociety, a "blog for recovering social scientists," has an interesting post on understanding "pro-ana"/"pro-mia" on social media sites like Pinterest and Tumblr. Snip:
On February 23rd, 2012 Tumblr announced its decision to turn the screw on self-harm blogs: suicide, mutilation and most prominently thinspiration – i.e. the ritualized exchange of images and quotes meant to inspire readers to be thin. This cultural practice is distinctive of the pro-ana (anorexia nervosa), pro-mia (bulimia) and pro-ED (eating disorders) groups online: blogs, forums, and communities created by people suffering from eating-related conditions, who display a proactive stance and critically abide by medical advice.

A righteous limitation of harmful contents or just another way to avoid liability by marginalizing a stigmatized subculture? Whatever your opinion, it might not come as a surprise that the disbanded pro-ana Tumblr bloggers are regrouping elsewhere. Of all places, they are surfacing on Pinterest, the up-and-coming photo-sharing site.
BANNING PRO-ANA WEBSITES? NOT A GOOD IDEA, AS WEB CENSORSHIP MIGHT HAVE A 'TOOTHPASTE TUBE EFFECT' (via danah boyd)
Boing Boing editor/partner and tech culture journalist Xeni Jardin hosts and produces Boing Boing's in-flight TV channel on Virgin America airlines (#10 on the dial), and writes about living with breast cancer. Diagnosed in 2011. @xeni on Twitter. email: xeni@boingboing.net.
More at Boing Boing